About CCFT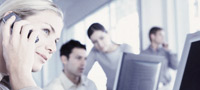 The CCFT team has gathered young, dynamic and creative people, with a vast experience in elaborating and implementing projects.

Our main qualities are seriousness, attention to detail and promptness.

Among us there are both English and Italian speakers, which help us establish business relations also with foreigners.

We base our activity on professionalism and hope that we can bring a substantial contribution to the economic competition increase on the Romanian business market.

The strategy that we have always applied was to adapt to every single client we have had, offering unique solutions, according to their particular set of requests, and guaranteeing complete confidentiality of the information provided by each of them.

Although we are a young team, we have managed to assert ourselves on the market in a rather short time, given the respect and professionalism we have shown to all our clients.

The fundamental principle of our firm is BENEFICIARY=PARTNER.